Inside - Time / Outside - Space
Wool strings stretched between reality and imagination, and our environment acquires a new dimension.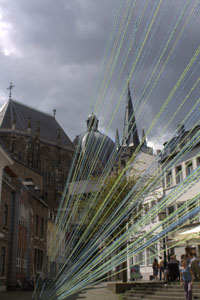 Inside Time / Outside Space
is a creation that combines urban art installation made of wool strings and contemporary dance. In each venue, a new performance is created. The installation animated by the bodies delivers a new aspect of the place in the eyes of inhabitants. It envelops or separates; it draws a light blurred veil over reality. It brings poetry in the everyday life. The trash, the wall, the tree, piles of dead leaves adopt a new dimension. The environment becomes an artistic support, a partner of the artistic process. Dreams and imagination emerge and enable people to see – during a very brief time – their own environment dressed and animated differently.
Inside Time / Outside Space
can be performed in all kind of spaces: a park, a place, a theater, a museum, a church ... and adjust itself to original environments.
The show can be accompanied by a visual arts workshop led by the visual artist who created the installation concept.
Choreography
: Irene Kalbusch
Dance
: Mélodie Lasselin/ Marie-Laure Fiaux, Masami Sakurai, Hiroshi Wakamatsu
Art installation concept
: A.M. Can
Choreographer Irene Kalbusch about Inside Time / Outside Space
Performance places:
Festival Urban Vision Sao Paulo-Brazil, Festival Dance Forum Brazil, Festival « Les Cyclopédies » Dijon (F), Festival « Across the borders » Aachen (D), Festival « Tanzende Stadt » Eupen (B), festival Urban Moves Manchester (UK), FestivalCorpi Urbani Genova (I), RUHR.2010 - European Capital of Culture, Schwerte (D), International Dance Fair, Düsseldorf (D), night of museum, Luxemburg (L), Berlin (D), Tanzwoche Dresden (D), Danz Festival Lëtzebuerg (L), Kukuk, Aachen (D),La Habana (Cuba), Museum Night Fever, Bruxelles (B), Festival Et20l'été, Paris (F),Pescara Dance Festival (I), Interferenze Festival, (I), Backstreet Festival, Alexandria (Egypt)
Photographer: Christophe Berg, Winfried Kock